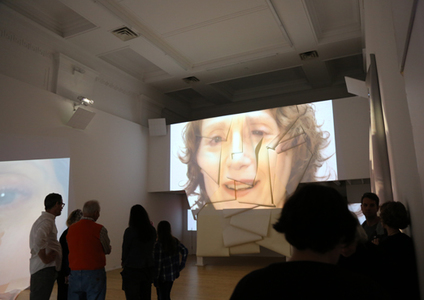 Soul Junk
SOUL JUNK is an installation that immerses its audience in video and sound. It places participants inside a metaphoric mind at work, mimicking synaptic circuitry firing in the brain. Using extemporaneous performance clips, SJ juxtaposes emotionally raw insights and confessions about family trauma, love, and loss with meditations upon how corporate interests drive contemporary politics.

Supported by Queens Council on the Arts, QAF Award
---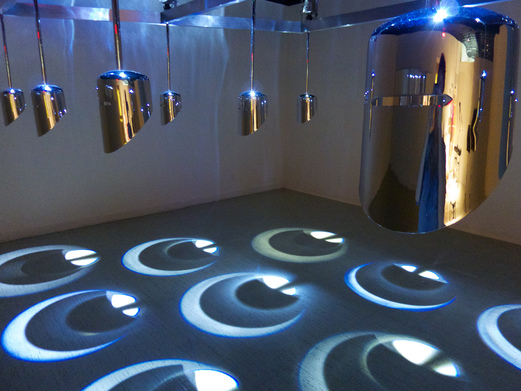 Wappen Field
Wappen Field is a sculpture and sound installation comprised of 12 chrome plated steel helmets resembling face guards. Each helmet's dedicated speaker transforms the sculptural installation into an immersive audio environment. Vocal recordings originally created by Ayelet Rose Gottlieb for Wappen Field, culled from seven diverse performers, are composed by Michelle Jaffé & spatialized algorithmically by David Reeder in SuperCollider. The sonic configuration gives voice to a range of human emotion; manifesting itself, when we are confronted with myriad situations. Over time I have come to understand, Wappen Field is my deeply considered meditation on 9/11. Supported by NYSCA & NYFA.
---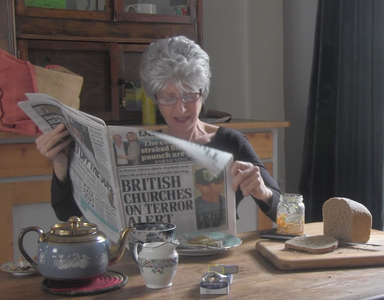 Tea with Estelle
The Tea with Estelle series are video works, in which this character grapples with contemporary political events.



InEquality Estelle talks about post Brexit England, University Fees, Oxfam Scandal, the rise of Inequality, lack of Opportunity.



Anyone Can Apply for the Job Estelle thinks about the character worthiness of Trump as the potential US President.



What to Make of It? Estelle contemplates her upcoming visit to New York, prior to the 2016 US elections.



Days & Confused ruminates on the choice Estelle has made in the days just after "Brexit" when the UK voted to exit the EU.


---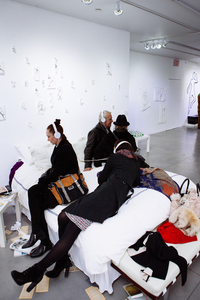 Neural: Cleave
Neural: Cleave is adapatable. It is at times a 2 or 4-channel audio installation and at other times a 5.1 Surround Sound installation. Neural: Cleave explores raw emotions, power, and intent conveyed and betrayed by the human voice. A woman offers deeply personal ruminations alongside observations about politics and society.

Composed to exploit the dynamic layout of the 5.1 Surround Sound speaker system, Right as Rain begins slowly. Like drizzling rain, it suggests that drop by drop, one decision at a time, a society can reach the inflection point, where its collective democratic values shift, change and erode to the point where the character of that nation is fundamentally changed. Questions are posed about the Constitution, Protest, Wall Street, authoritarian leaders, corporate power brokers and fracturing along religious racial & ethnic lines. The final questions are: Who are they, who is them? Who are we? Are they us, are we them? Who is the other?

Neural: Cleave places people inside a metaphoric mind at work, mimicking synaptic circuitry firing in the brain. One person who heard excerpts said: "It's like you were in my head—I have these thoughts all the time." Neural: Cleave stimulates reflection. It gives people a moment to pause, contemplate and extract their own meanings.
---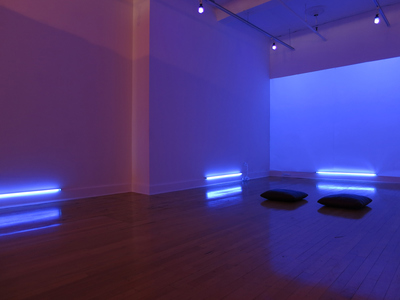 Awakening
In contrast to our highly mediated lives Awakening offers a moment to be present for an everyday occurrence, which so many beings on the planet, certainly city dwellers, no longer have much access or relationship to. Awakening documents the arc of coyotes, ravens, birds, insects, geese, and frogs greeting the day on an October dawn in deeply rural New Mexico at Walter de Maria's "Lightning Field".
---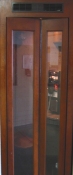 Booth Project
The Booth Project is a Sound Work, installed in a Telephone Booth, as part of the Electro Acoustic Music Festival at Brooklyn College in April 2005. It is the final work I composed in MaxMSP at the end of my year as Artist-in-Residence to the Computer Music Department at Brooklyn College, New York.