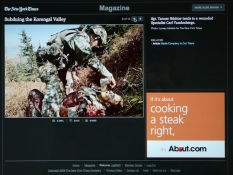 4000th US Soldier: Official death toll, March 23, 2008
The New York Times Sunday online magazine photo essay, Subduing the Korengal Valley, marks the death of the 4000th US soldier in the War in Iraq. Each page of this photo essay balances the lead story against dynamically placed advertising, located diagonally across from it, in the lower right corner. The advertising slot is a template box, available to any company, to plug in its "Banner Ad", at any date & time of its choosing. Ad placement is random; entirely indifferent to the content on the page. In the digital age, no one designs or monitors the page layout. As the war drags on, it seems our society, like the advertising, is barely cognizant of the daily atrocities, being perpetrated upon the Iraqi people & our own soldiers, & their families. And now in Afghanistan. Out of sight, Out of mind. Ideas and desire collide & collude into thoughtless, even callous juxtapositions. Unchecked, unfiltered. How can one comprehend the utter lack of sensitivity to the placement of brutal images of war juxtaposed next to banal advertising slogans, whose only purpose is to serve late market capitalism at home.
---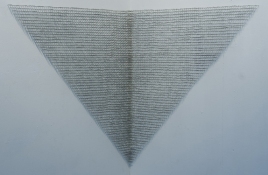 Bed of Nails, Iraq 4000
In the corner of a room at Djerassi, 4000 Nails are installed in an exponential progression, on the date of March 23, 2008, marking the official death toll of the 4000th US soldier to die in Iraq. This death toll number does not reflect the alarming amount of soldier suicides, nor does it represent, the more than 35,000 soldiers brutally dismembered & maimed by IED's.
---
---